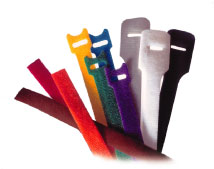 The Rip-Tie Lite is ideal for bundling & organizing computer and network cables.
Rip-Tie Lite is made of one piece of double-sided hook and loop fastener. It has a die-cut slot for attachment to a single cable.
Rip-Tie Lite is good 200 - 300 re-fastenings.
Rip-Tie Lite is perfect for use on equipment, home theatre and audio systems, tools aplliances and more.
Light duty
Low Cost

The Rip-Tie Lite Screw Mount version which has a larger head and a perforated X for driving a screw.